Company Profile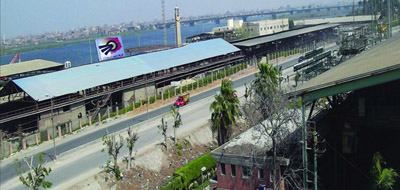 El-Nasr Castings company (ENC) is the Egyptian's Leading Manufacturer for Grey and Ductile Iron Products for Water and Wastewater Industry
(ENC) is group of foundries which can call upon expertise and ability arising from over 60 years of experience in foundry industry.&nbsp
In the year 1997 EL NASR CASTINGS COMPANY has become an Egyptian joint stock company in accordance with the law no.159/1981.
ENC group has a continuous history of innovation which is reflected in the high standard and wide range of castings which are supplied to all sections of industry.
ENC Supplies its products its products to both local and international markets and these products meet the highest standard specifications of :
- ISO 2531
- EN 545
- EN 598
ENC Know how documentation for the two both plants, D.I. pipes and high quality castings are consequently in accordance with instruction and policies of:
1- THYSSEN GUSS – GEMANY
2- VON ROLL – SWITZERLAND
3- BOPP & REUTHER – GERMANY
Ductile Iron Castings ranging from 0.5 Kg to 12 ton individual weights are made by using electric induction furnaces, in ductile and grey iron, low, medium and high alloy grades of cast iron for heat and corrosion resisting applications. Pipes are products by centrifugal castings method, whereas other castings are variously produced by hand and machine molding methods, in addition, there is a comprehensive pattern making department. Heat treatment, fettling and testing facilities using modern and extensive equipment, ensure the soundness and cleanliness of castings and there are machine shops capable of finishing to the limits. Stringent quality control is imposed at every stage of production including raw material analysis, sand quality checks, molten metal temperature control and others, and a full technical service is available to advice on design and specification.
The company's policy and marketing activities are indivisible.
The company's policy regarding quality is:
- ENC provides products and services with quality achieves both of basic needs and future requirements, as well as the client's anticipation in the light of price and current competition.
- ENC always maintains a high quality for its products in order to fulfill the client's requirements.
- ENC takes the necessary measures that the supplied raw materials are according to the standard specifications.
- ENC aimed to meet the anticipated industrial requirements through the adoption of new, improved material and manufacturing techniques.
There is close liaison with customers to ensure that product design and quality are the best that can be achieved and that delivery is made in accordance with the planned scheduled.
- ENC has obtained in October 1995 from RWTUV, Germany ISO 9002 certificate which has been renewed in 1998.
- ENC has obtained in July 2002 ISO 9001: 2000 certificate, valid until July 2008 and has been renewed till 2011.
- ENC has obtained in December ISO 9001:2008 by Germanscher LIoyd valid until December 2014.